Wedding Party
Hers
Matron of Honor: Holly Ouellette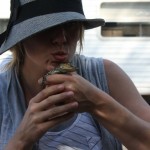 Holly is my beautiful sister who I love and adore. She spent our childhood tormenting me with stories of how I was found alongside the road in a cabbage patch and telling me to hold my tongue while I said apple to our parents. She is also the one who took me Homecoming dress shopping, taught me how to put on make-up, and taught me to never settle for less than you deserve when it comes to men. Holly lives in Florida with her awesome husband (who just made Chief Warrant Officer in the Navy! Congrats Scott!) and wonderful baby girl, Olivia.
Maid of Honor: Mary Patton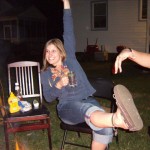 Mary and I go way, way back. Our moms were pregnant together and I think we came into this world best friends. (Just remember Mary, I am a whole two whole months older than you!) We have done everything together, acting in her sister's movies, driving argos in the backwoods, going to prom, fighting with our moms about our messy bedrooms, and so much more. She taught me to be myself and that crazy can definitely be a good thing! Mary lives in Charlotte, North Carolina where she is working towards her degree in Occupational Therapy.
Bridesmaid: Brittany Wood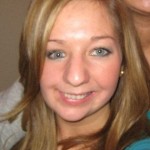 Brittany is my awesome, favorite female cousin on my Mom's side! (Okay, she is my only female cousin on my Mom's side, but still, my favorite!) She and I share a deep love of dancing, having both spent most of our childhood on stage in tap or ballet shoes. One of my all time favorite memories is dancing with her, my sister, and our grandma in the disco when we went on a family trip to Cancun. She is one of the strongest people I know and has taught me so much about getting through the struggles in our lives while keeping a smile on. Brittany graduated from Case Western with a degree in Nursing and is now working at Cleveland Clinic.
Bridesmaid: Amanda Benton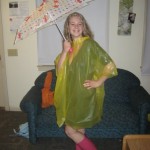 Amanda and I met in college where we bonded over being those two girls from Ohio. (Which to most East Coasters, is really, really far away.) We went on to be roommates for two years (it would have been three but she just had to study in Italy), where we spent our time giggling, eating ice cream, having long talks into the night, and doing more giggling. She has taught me over and over again that a true friend is always there for you, even if they are across an ocean and I don't think I would have survived college without her! Amanda currently lives in DC with her husband Brad but will be moving in the fall to Boston where she will be getting her Masters at Harvard. (Go Amanda!)
Bridesmaid: Laura Nordone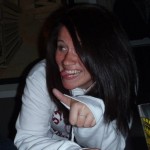 Laura and I met the first day freshman year. She and I went on to be fast friends surviving many a crazy and potentially dangerous escapade together, sometimes ice on a pond is not frozen solid, just saying, including an amazing road trip across the country. We even did a short stint as roommates, only to realize that the knee deep hazardous waste that was our bedroom was probably a bad idea. Laura has taught me to always try something once and that driving fourteen hours through corn fields is awesome if you have the right company. Laura currently lives outside of San Francisco but will be heading back east this summer to get her Masters at Smith College.
His
Best Man: Dan Rowe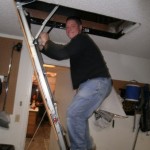 Dan and I go way back, kindergarten in fact. We built a lot of tree forts in each other's backyards growing up and we spent much time burning, cutting, and climbing things while the other boy scouts were busy doing boring stuff. We had neighboring lockers through high school and we roomed together in college and managed to not get into too much trouble. Dan lives in Fort Wayne with his wife, Allie, dog, and not-yet-born child and works for NIPSCO pool and patio and natural gas paradise.
Groomsman and Officiant: Reid Pflueger
Reid went to grade school with Dan and I, but he was too cool to hang out with us until he found out we liked building ramps for Habitat for Humanity. He eventually moved down to Purdue a few years after high school to become a male nurse. We shared the world's awesomest apartment there with triple tv and full-room wraparound couches and we bonded over adventures raising his, shall we say, *spirited* dog. He lives in Indianapolis with his wife, Jamie, kids and dog, and is finishing up becoming a doctor and going pro with the bellybutton thing.
Groomsman: Chad Post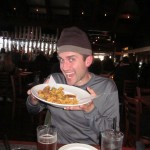 Chad and I started hanging out in high school because he had a pool table AND and ping pong table in his basement. He eventually came to Purdue as well and taught me how to pick up ladies with sweet dance moves. A few years later, he convinced me to drop out of school and move to Colorado where he ended up introducing me to my soon-to-be wife (whom I impressed with sweet dance moves, by the way). Chad lives in Denver with his wife, Audra, where they enjoy snowboarding and making beer and he sells pumps.
Groomsman: Joe Schmidt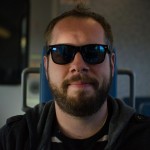 I met Joe at Purdue where he came as part of a mass-migration from The Region. He eventually started dating one of my friends Lindsay (to whom he is now married) and so he was granted access to all of our awesome parties. My visits to them after college were a big reason I moved to the San Francisco Bay area. Joe lives with his wife and an awesome dog in San Francisco where he is busy developing the interwebs.
Groomsman: Zach Rody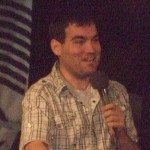 Zach and I met in high school where we shared a common interest in sarcasm and telling hilarious jokes that no one understood. We carried on at Purdue while we honed our gaming skills and ate breakfast sandwiches. A few years later, when the time was right, we invaded Europe for their Berliners and Flemish Fries and Zach almost got marooned in Moscow. Zach lives in Fort Wayne where he continues to spread the hilarity.
We want to thank our wedding party for taking the time to be part of our special day.
We love you all!
One response to "Wedding Party"