Wedding Venue Map
There has been some road construction and closures in the area surrounding the wedding venue, but we will be sure to have up-to-date information here at the time of the wedding.
Current Directions
Laurel Mill Lodge
16770 Redwood Lodge Road
Los Gatos, CA 95033
408 353 5851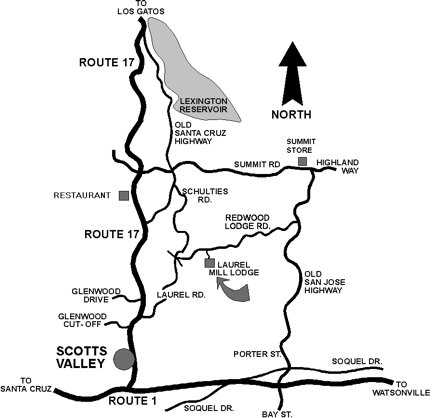 Currently, the median is blocked on HWY 17 at Laurel Road. This means no left turn on to Laurel Road when coming from the north (Los Gatos) and also no left turn onto HWY 17 from Laurel Road to go southbound (Santa Cruz).

FROM LOS GATOS/SAN JOSE: Take Highway 17 South through Los Gatos and up the mountain. Take the Summit Road exit (on right) as soon as you see the fly-over. Turn right at the yield sign and cross back over the highway. Turn left at the stop sign. Follow Summit Road east, almost 4 miles. Just past the Summit Store (on your left), turn right onto Old San Jose – Soquel Road. Continue 1.9 miles south to Redwood Lodge Road. Take a hard right, and carefully enjoy the next 1.9 miles, ignoring any "Road Closed" signs. At the bottom of the steepest part of the road, turn left in front of the guardrails and the Laurel Mill Lodge sign.

FROM SANTA CRUZ: Take Highway 17 North through Scotts Valley. Turn right on Laurel Road. Go 2.2 miles and turn right on Redwood Lodge Road. Go ½ mile and look for Laurel Mill Lodge on your right just after you cross the creek.

FROM SOQUEL: Take Bay Street exit from Highway 1. Bay St. becomes Porter, which becomes Old San Jose – Soquel Road. Go north about 10 miles and turn left on Redwood Lodge Road. Go 2 miles. Watch for the culvert crossing Soquel Creek, but do not cross it. Laurel Mill Lodge is on the left just before you reach the creek.